GroenCollect x Caffe Inc. Let's change the way we look at coffee waste, one bucket at a time
June 2022
With an average of about 2,4 cups a day, the Dutch are one of the biggest coffee drinkers in the world. Enjoy the next zip of goodness and continue reading, because we got something important to say. Did you know these daily cups of coffee result in 250.000 tonnes of spent coffee grounds a year? And that's in The Netherlands only. Most of the spent coffee grounds are incinerated or digested, causing CO2 emission equal to 2.850 return flights Amsterdam-New York. We think there's a better way!
At Caffe Inc. we believe that no resource should go to waste. In GroenCollect we found a great and worthy partner with an equal mission. GroenCollect collects mono waste streams in Amsterdam, Rotterdam, The Hague, Utrecht and soon they will expand to Nijmegen and Breda. GroenCollect does an amazing job in carrying out their mission company-wide. Collecting the waste streams is done by a completely electric vehicle fleet and that's not all. They also give people with a distance to the labour market an opportunity to work. You get it, we found a great match.
"Our aim at GroenCollect is increasing the circular economy and enabling start-ups to thrive. We found a talented and solid partner in Caffe Inc. where we fully believe their vision and see an enterprise lead by talented people thriving to grow with us." –  Philip Troost, Founder GroenCollect
The spent coffee grounds collected from bars, cafes, hotels and offices in Amsterdam go directly to our recycling plant, where we recover beautiful resources. At our plant we produce coffee oil and  blocks. Our coffee oil is of great use in the personal care industry and the coffee blocks for the biobased material industry and coffee colorants for the textile industry.
Do you, like us, think it's a waste to throw away spent coffee grounds? GroenCollect is still open for new clients in Amsterdam and Utrecht.*
"We partnered with GroenCollect during our earlier trials and are happy to in this new exciting phase. GroenCollect has a hands-on approach, and gives hands and feet to the circular economy we strive for." –  Evaluna Marquez, founding CTO Caffe Inc.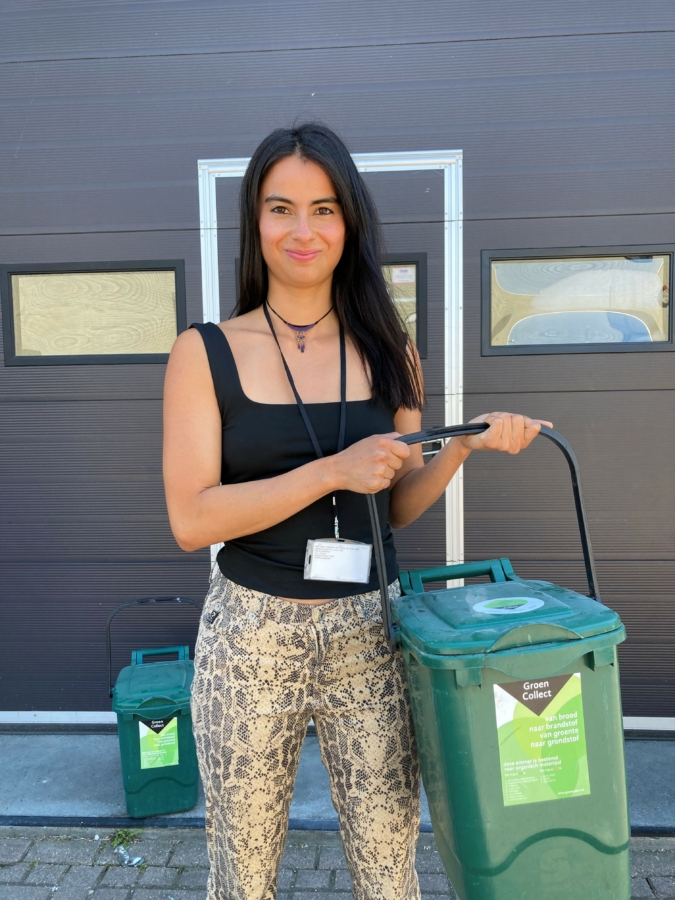 Evaluna Marquez, founding CTO Caffe Inc.
*Are you working at a bar, café, hotel or office in Amsterdam or Utrecht? And do you want to upcycle your spend coffee grounds? Send an e-mail to info@groencollect.nl. Together we show that coffee is so much more than a beverage!