Bonne Suits X Caffe Inc. | The Coffee Suit
February 2021
We are very proud to share with you our collaboration with designer Bonne Reijn and his brand Bonne Suits! Bonne Suits won the Dutch Design Award for Best Fashion Design in 2019.
"We were already taking steps to make the suit's cotton as sustainable as possible, without compromising on quality. Dyeing the suit with dyes from a waste stream fits in seamlessly with our ambitions."
– Bonne Reijn, Bonne Suits
The clothing industry is one of the most polluting industries in the world. Despite the increasing focus on sustainability, there is still much to be gained in the field of natural textiles dyes. The commonly used synthetic dyes often contain harmful chemicals for people and the environment. The vast majority of this ends up in the wastewater and not all of it is filtered out.
At the same time, we have mountains of coffee grounds in the Netherlands, which are most often incinerated our digseted. Caffe Inc. thinks this is a shame, because many valuable raw materials are lost in this way. With our innovative concept we recover valuable resources from coffee grounds, including coffee dyes and coffee oil. After testing the dye in various applications, the dyeing of textiles proved to be a good match. "The natural dye from coffee grounds scores well on lightfastness and washfastness, factors that are very important in this sector," says Nijstad (Caffe Inc.). No raw materials are needed to produce the natural coffee dyes and no toxic waste is produced. A nice side effect is that natural dyes also offer better UV protection due to the antioxidants present.
For Caffe Inc. this is only the beginning. We are scaling-up our technology and show what is possible if we start looking differently at the materials around us. Eager to learn more about Caffe Inc.'s coffee colorants? We are always looking for collaborations with inspiring companies!
For more info about Bonne Suits: Bonne Suits Amsterdam – the unisex, seven-day-suit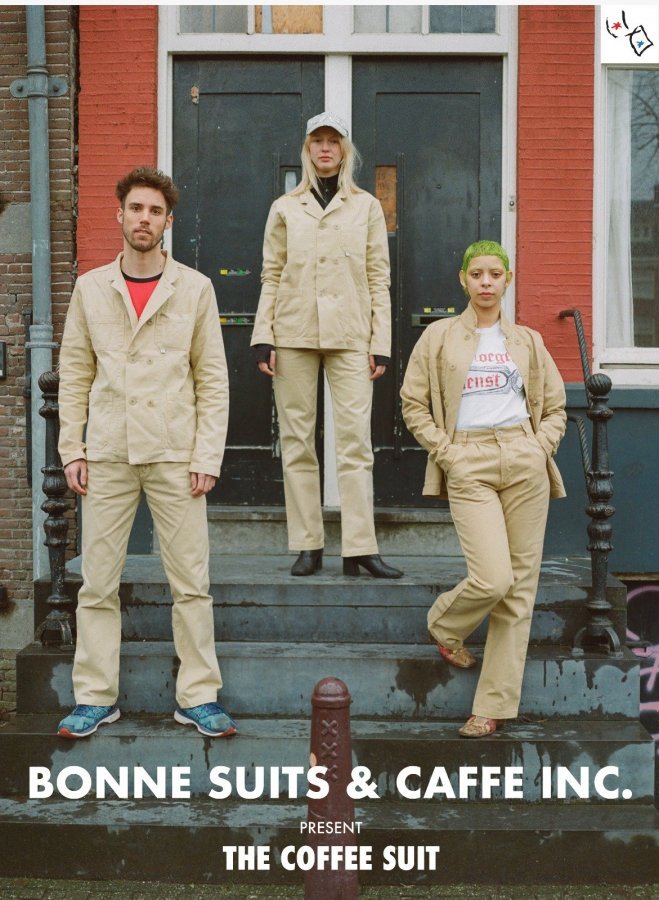 Image by Maarten van de Kamp